BeneoSpa NOVO Prijenosna hidromasažna kada na napuhavanje za 4 osobe, spa, jacuzzi, crna
Dimenzije: Vanjski promjer: 180 cm, visina 65 cm

Zapremina: 800 l

Savršeno za 4 odraslih osoba

Broj zračnih mlaznica: 130

Paket uključuje: hidromasažnu spa kadu, patronski filtar, izolacijski jastučić, poklopac i set za popravak

Automatska regulacija temperature vode

Sustav samonapuhavanja

Filter: 12V CC, 50Hz 30W

Težina: 26 kg

Laminirani PVC poklopac s aluminijskom folijom za održavanje temperature vode
Redovna cijena
575 €
Special Price
379 €
SKU
NEW_BENEOSPA_4P_BLACK_BLACK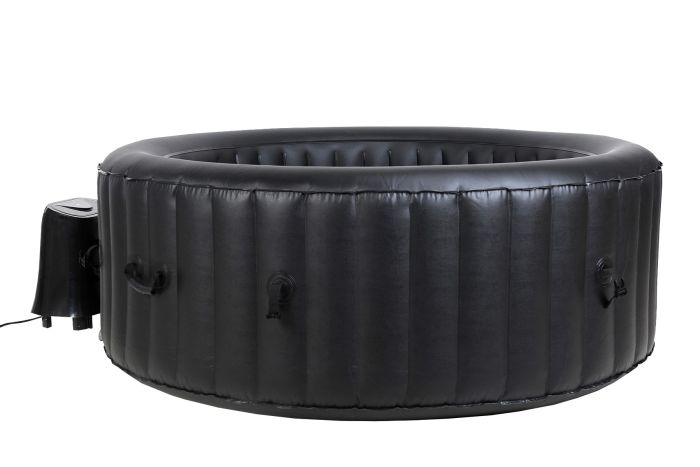 Kliknite za punu veličinu.
Odlično za obitelj, zabavu s prijateljima, kao i za parove.
Pretvorite svoju kuću ili stan u luksuznu rezidenciju s vrhunskom NOVOM BeneoSpa hidromasažnom kadom!
Njena terapeutska korist dokazana je brojnim medicinskim ispitivanjima. Najčešće se spominju blagotvorni učinci na mišićno-koštani sustav, te povoljan utjecaj na mentalno zdravlje. Dokazana je i njena korist za našu kožu. Mjehurići joj prijaju, masiraju je i poboljšavaju metabolizam.
BeneoSpa mobilna hidromasažna kada donosi odličan omjer cijene i performansi. Vanjski promjer iznosi 180 cm i pogodan je za 4 odrasle osobe. S ugrađenim sustavom za samonapuhavanje, hidromasažna kada spremna je za uporabu za nekoliko minuta, bez napora.
CHILD LOCK (dječja brava, zaključavanje za sigurnost djece) - nakon unosa postavke na upravljačkoj ploči, dječja brava se automatski uključuje nakon 30 sekundi. Dječju bravu otključavate držeći pritisnutu tipku SET TEMP.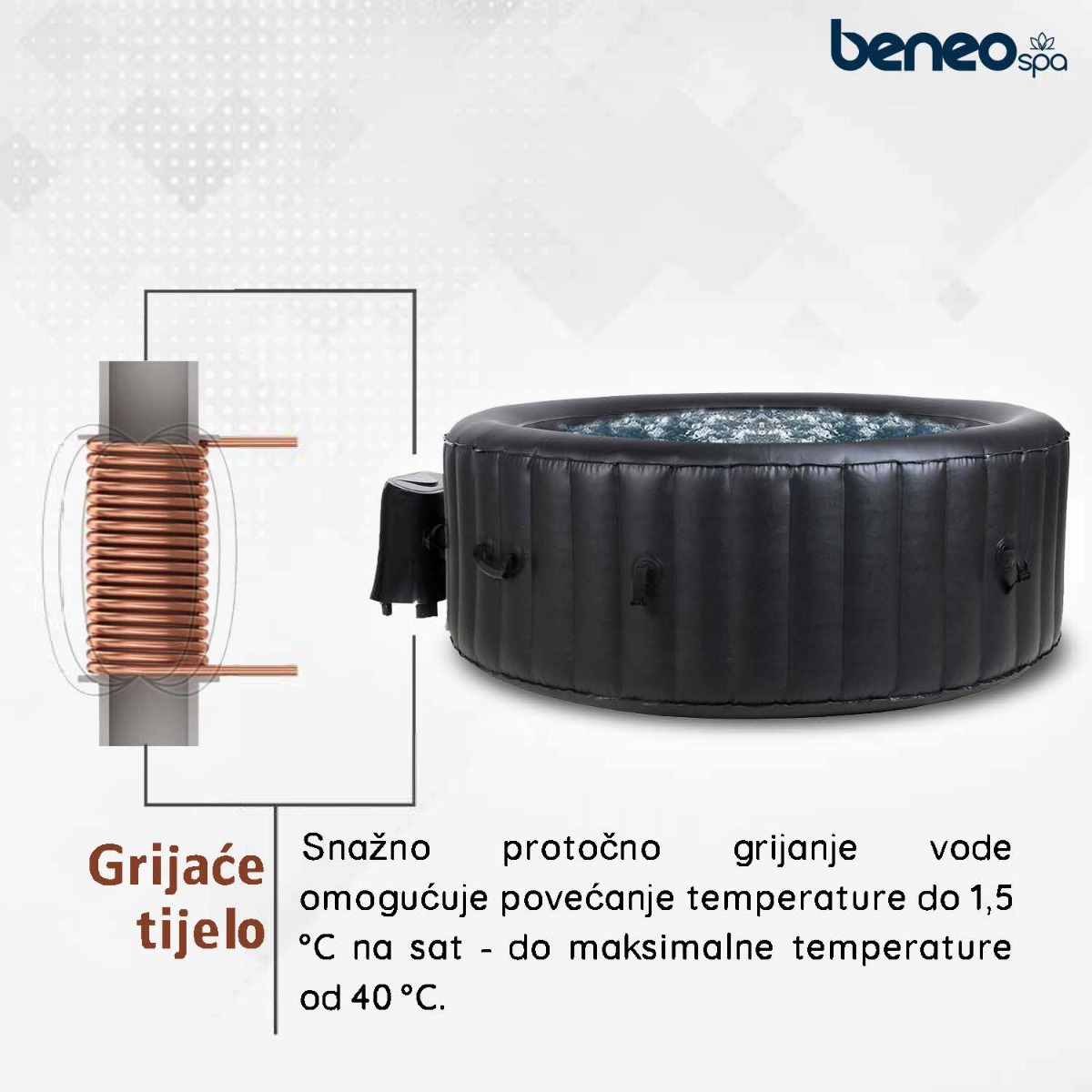 Pomoću integriranog grijanja možete odabrati temperaturu kupke ili masažu koja vam najviše odgovara. Grijač vam pruža toplu, opuštajuću kupku (temperatura vode od 35 °C do 38 °C) ili vruću kupku (temperatura vode od 38 do 40 °C). Cirkulacijski grijač omogućuje povećanje temperature do 1,5 °C na sat do maksimalne temperature od 40 °C, a također je opremljen i sigurnosnom bravom.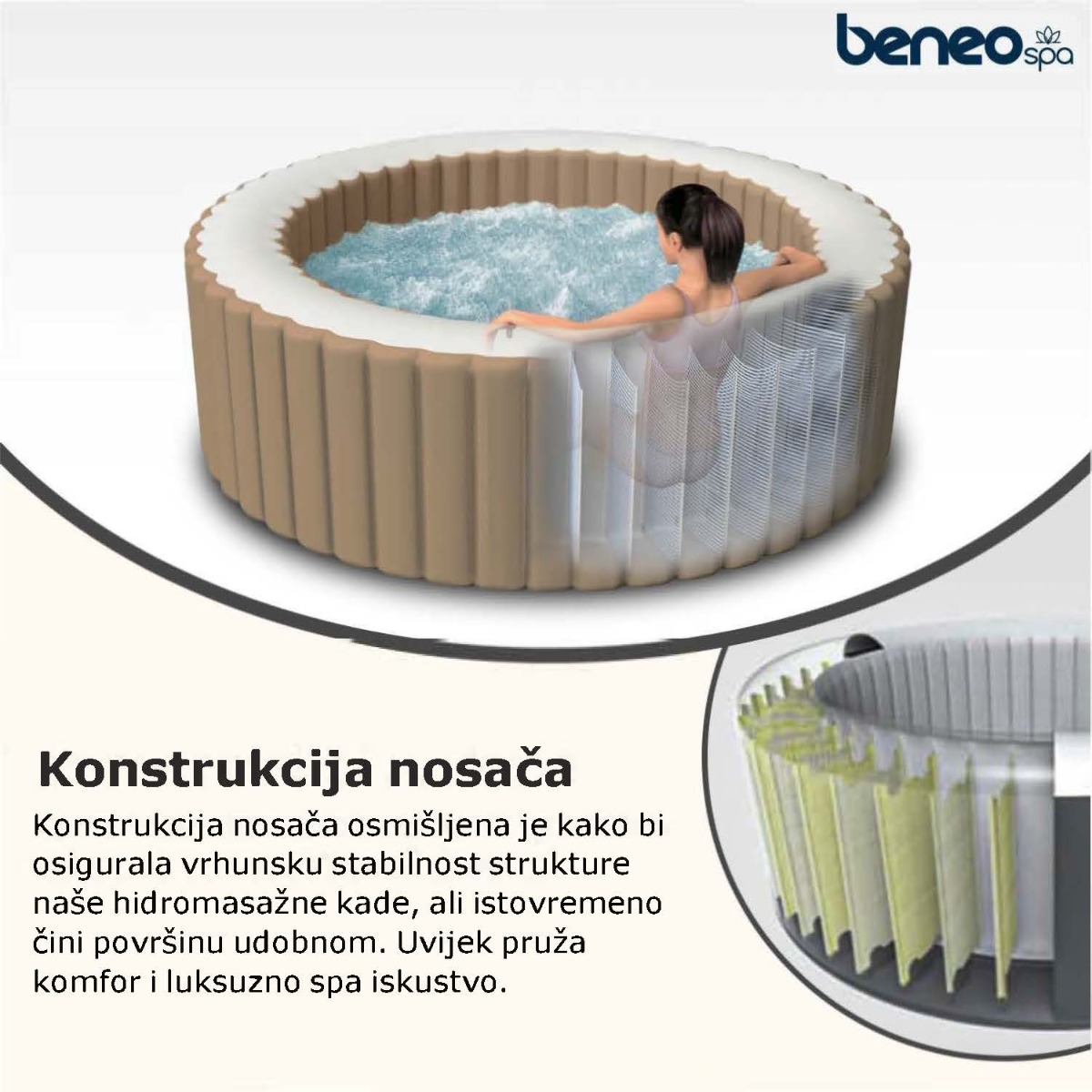 Naša hidromasažna spa kada na napuhavanje ima unutarnju fleksibilnu podstavu koja vam omogućuje da se satima opuštate nakon dugog napornog dana. Ne samo da Vam hidromasažna spa kada na napuhavanje omogućuje fizičku udobnost, već dolazi i s raznim dodacima koji pridonose Vašem opuštanju. Možete dodati i poseban naslon za glavu za još veću udobnost te držače za staklo kako bi Vaša pića ostala netaknuta - i još mnogo toga!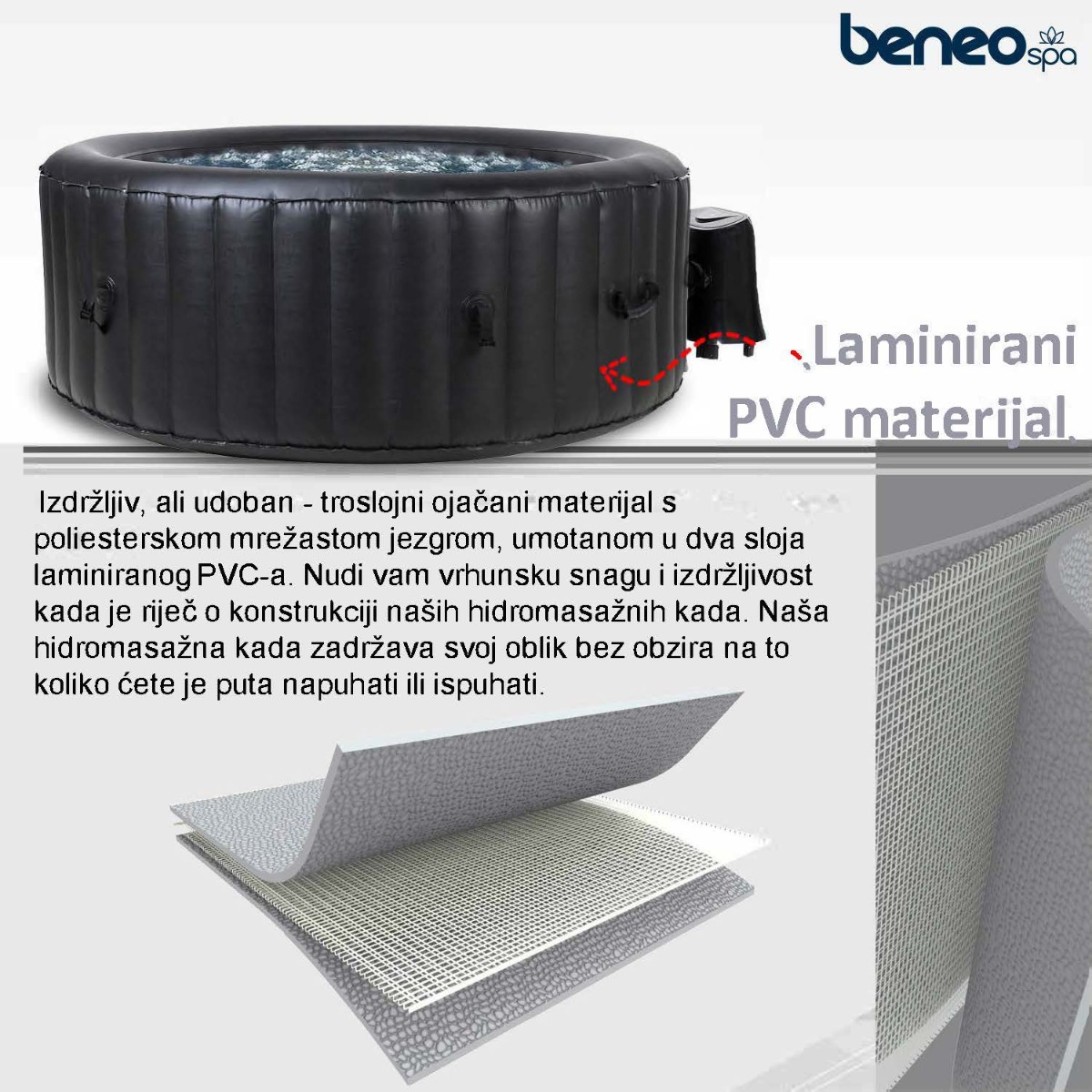 Hidromasažne spa kade BeneoSpa dolaze s troslojnom PVC laminacijom koja ih čini izdržljivijim. Budući da je hidromasažna spa kada izrađena od PVC-a, fleksibilna je i to joj daje gladak i besprijekoran izgled. PVC laminati imaju otporna svojstva i to ih čini izdržljivijima. Također, kako je hidromasažna spa kada sastavljena od PVC materijala, voda ostaje čista - jer su PVC laminati kemikalije bez olova i toksina.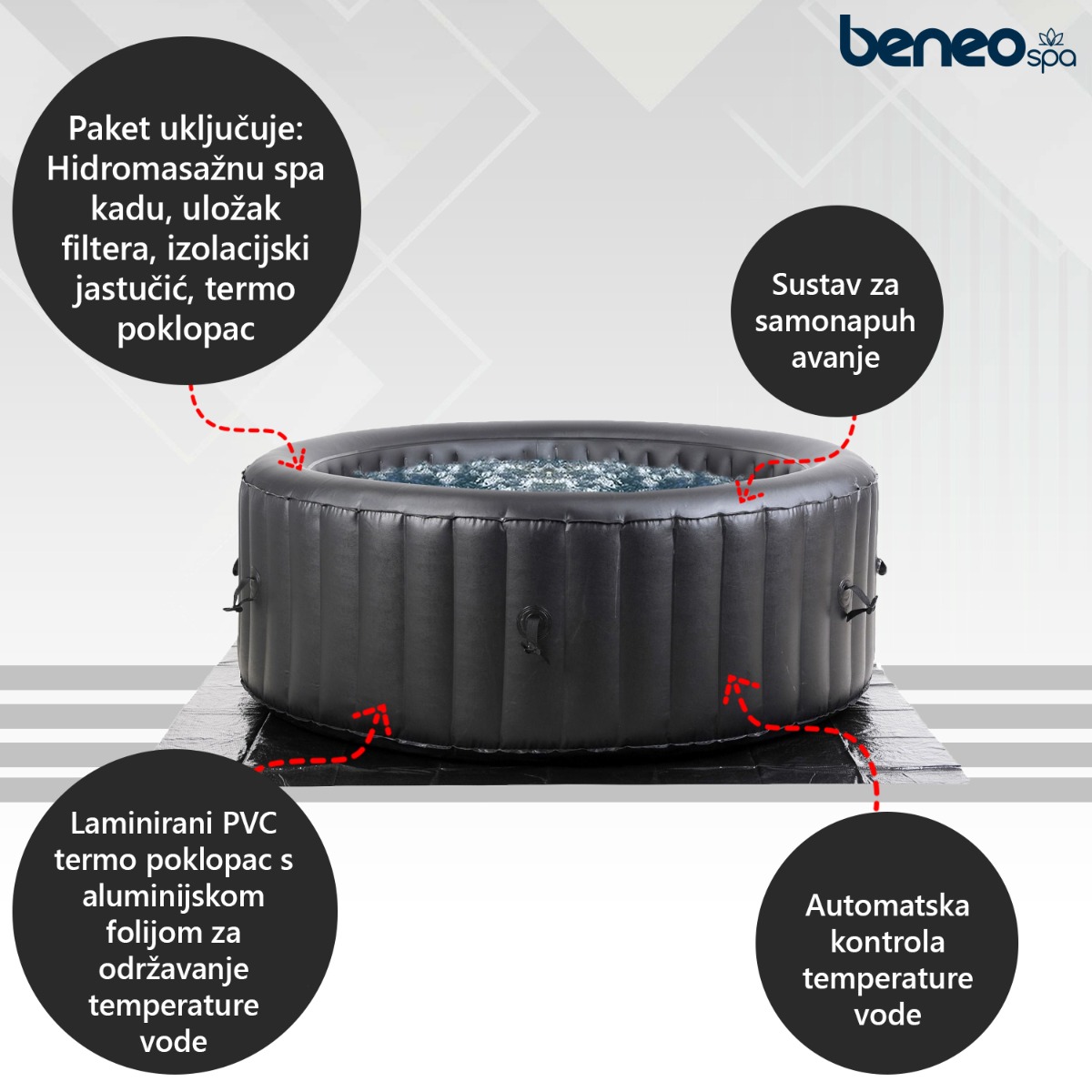 Snažno zagrijavanje vode omogućuje podizanje temperature do 1,5 °C na sat do maksimalne temperature od 40 °C.  Hidromasažna spa kada iz BeneoShopa visoke je kvalitete te dolazi s filtracijskim ulošcima. Glavna prednost filtarskog uloška je u tome što ne zahtijeva ispiranje za razliku od pješčanih filtara te je zbog toga učinkovitiji i štedi energiju, što u većoj mjeri smanjuje i račun za struju.
Tehničke značajke:
| | |
| --- | --- |
| Kapacitet | 4 osobe |
| Materijal | 0,60 mm / 24 kalibar K80 trajni PVC laminirani poliester |
| Kapacitet | 800 litara |
| Vanjski promjer | 180 cm |
| Visina hidromasažne kade | 65 cm |
| Broj zračnih mlaznica | 130 |
| Snaga filtriranja | 12V , 50Hz, 30W |
| Gornji poklopac | Laminirani PVC poklopac s aluminijskom folijom i sigurnosnim zatvaračem |
| Težina hidromasažne kade | 26 kg |
More Information

| | |
| --- | --- |
| Dužina | 180,00 cm |
| Širina | 180,00 cm |
| Dimenzije - visina (cm) | 65 |
| Dimenzije - širina (cm) | 180 |
| Dimenzije - dužina (cm) | 180 |
| Dimenzije paketa - visina (cm) | 60 |
| Dimenzije paketa - širina (cm) | 40 |
| Dimenzije paketa - dužina (cm) | 60 |
| Maks. opterećenje (kg) | 825 |